After his first 2 months using Visitor Queue, we sat down with Craig Dees, the Senior Manager of Corporate Communications at Stonebridge, to see what the short-term benefits have been so far.
Marketing and sales collaboration
Like most, Craig was struggling to get the Sales and Marketing departments to see eye to eye. At Visitor Queue, this is a core problem we're trying to solve for companies.
"VQ plays an integral role in integrating our marketing and sales activities. It's a great platform for improving collaboration between my "ivy tower" marketing team and our "in the trenches" sales team."
We're glad we were able to help bridge the gap and create further organizational synergy.
How does Stonebridge use Visitor Queue?
Stonebridge's use case was one that we see often – they wanted to identify the companies visiting their website so they could better market and sell to them. We were able to do just that for them by providing accurate information and ways in which they can share it.
"Stonebridge is an oil and gas consulting firm, so we have a specific target market. I have VQ open in my browser all day, checking to see when clients and prospects come to our site and what they're looking at. Our sales people appreciate getting updates on activity. They believe it's valuable intel."
The ROI of Visitor Queue
We knew that Stonebridge Consulting had a very niche market. As you can imagine, the deal value of these clients is incredibly high, so, being able to accurately and consistently identify oil and gas companies for them was crucial.
"In the first two months VQ helped us convert two new clients. Pretty cool."
Pretty cool indeed! As they continue to utilize Visitor Queue, we'll stay updated on how many deals we assist them in closing.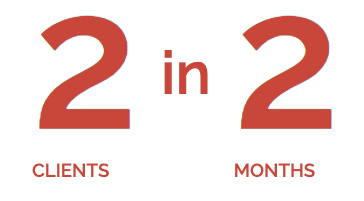 The selection process
Like most of our prospective clients, Craig was evaluating a number of solutions when we first met with him.
"Visitor Queue was one of the several website traffic monitoring solutions recommended to us by our SEO services partner. I evaluated all three and felt VQ was the best in terms of functionality and price."
After our first conversation, we knew we wanted Craig and Stonebridge as a client. So, when we saw that they had signed up for a Pro Plan, we were more than thrilled.
How has your experience been using Visitor Queue?
"It's been great so far. VQ gives us an easy-to-use solution for tracking website visitors and does so at a reasonable price point."
Would you recommend Visitor Queue to others?
"I already have."